Video Surveillance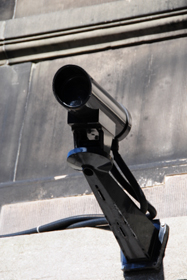 Vision. Protection. Trust.
Video surveillance and Closed Circuit Television solutions can enhance your security efforts in many situations.
CCTV equipment is a strong deterrent to theft and fraud, and provides complete documentation of events so you can examine activity and make decisions accordingly. These systems protect your employees, product and facilities.
ASN offers the most advanced CCTV and video surveillance systems available on the market, including:
Indoor Cameras – an effective deterrent that helps you put a stop to shrinkage
Outdoor Cameras – deters vandalism, 24-hours a day
Covert Cameras – keeps everybody honest: customers, staff and vendors
Lenses – 20/20 vision that keeps a focus on what you want to protect
Pan, Tit & Zoom – Up close and personal
Multiplex System – many cameras monitored at one location
Network Cameras – viewable on internet
Digital Recorder – catch it on clear digital video
Interactive Video – real time video surveillance